Find The Best
Electricians

Near Me
Instantly Locate Pros Already Working In Your Neighborhood
Same Day Service, Future Service, Estimates, and Installations
Electrician
What are the Average Costs of Hiring a Local Electrician?
In the U.S., an hourly rate of a licensed electrician is anywhere between $50 to $100 per hour.  
Note that these estimates do not include additional costs, such as trip fees (average of $25 to $75) or small replacement parts.
For electrical repairs, most homeowners would usually shell out starting $161 to $520. Additional costs for large parts are usually billed separately by contractors. 
The cost for consultations and typical inspections would also fall in the same range, while a complete home inspection will cost from $200 to $500. 
The costs for urgent or emergency repairs run higher, which are usually around double the hourly rate plus a trip charge starting at $100. It is also good to note that some electricians will bill a minimum hourly charge of 2-4 hours, even if the job only took half an hour to finish.  
A few other things that will affect the hourly rate of an electrician are the following:
Distance of your location – Electricians will bill you based on the cost of travel to and from your home and also its proximity to supply stores. That's why it's more ideal to hire electricians nearby.
Same Day Pros can help you find licensed electricians working in your neighborhood.
Type of project – The more the job gets complicated, the higher the bill you should expect. 
Experience – There are three levels of certification for electrical workers: apprentice, journeyman and master electrician. Evidently, the higher the grade, the higher the electrician will charge. 
Average Rate by License Type
| | | |
| --- | --- | --- |
| Type of License | First Hour Rate | Average Hourly Rate |
| Apprentice | $65+ | $40 |
| Journeyman | $65+ | $55 |
| Master | $150+ | $100 |
Average Electrical Contractor Rate Per Project
Here's a list of common electrical issues and the average costs to have them fixed.
Service
Average Project Cost

Electrical Panel Upgrade

$500 to $4,000 (or $800 average)

Generator Repair

$200

Generator Installation

$1,000 to $6,000

Outlet, Switch or Socket Installation    

$150 to $250

Light Fixture Repair

$175

Light Fixture Installation

for glass ceiling fixture or pendant light:

$70 to $140 including labor 

for recessed lighting $160 to $350 per light

Attic Fan Installation or Repair

$200 to $400

Ceiling Fan Installation

$100 to $200

Ceiling Fan Repair

$50 to $200

Bathroom Fan Installation

$300

Wiring a House

From $1,200 and above ($6 to $8 per foot on materials alone)

Electrical Breaker

$100 to $160

Smart Home Installation

$400 to $2,000
If you hired an electrician to do a service call, it's better to get a quote for all the electrical projects that you want to get done during the visit, instead of asking for bids each time a project will come up.
For a *rough-in for a new structure, the average rate per hour for two professional electricians is $175 per hour. This price will still vary depending on the size of the project and the plan specifics.
*A rough-in is the stage of a construction project where electrical, mechanical and plumbing are brought in and laid out.
Get FREE Quotations from Most Trusted Electricians Near You
Are you looking for a licensed electrician near you? Before you complete your plans, you will need to get quotations from several electricians to see which contractor is the best for you.
Find the most trusted professional electricians who already in your local area.
5 Tips to Get the Best Bid from Your Local Electrician
Whether you are in need of some electrical repairs or are in the middle of a home improvement project that requires some electrical work, what you would need is a professional electrician. 
It is true that hiring electricians that have years of experience in their portfolio could be more expensive than getting assistance from an amateur. However, choosing a more qualified electrician could give you an assurance that the project will be done correctly and professionally. 
With plenty of certified electricians to choose from, hiring the right contractor that offers the best bid could be tricky.
Here are five tips to help make sure that you're getting the best arrangement when hiring a licensed electrician. 
1. Ask bids from multiple electricians – To get an idea of the average price to complete your electrical project, it's recommended that you inquire from at least three professionals so that you can compare their bids. 
2. Get the details of each bid – Make sure that when you receive the bids, they should include the price for labor and parts that will be used for each project in your home. The more comprehensive the quotation is, the better. 
3. Put everything in black and white – Check your agreement and make sure that all your expectations are in writing. 
4. See if there are rooms for changes – Discuss with your contractor what would happen if you are not satisfied with their work or if there would be uncertain circumstances that will affect the bid. Gauge how flexible and committed they are in delivering quality work.
5. Review and understand everything – Take the time necessary to review and understand the terms and conditions of the work, warranties and everything that is included in the estimate.
Same Day Pros has a comprehensive list of licensed electricians to help you find qualified professionals that are working near you. 
When is the Best Time to Hire an Electrician?
If your house is over a couple of years old, there's a huge possibility that the wiring inside your home is out-of-date. This means that they are no longer designed to support the ever-growing collection of electronic appliances that we use today. 
This is one indication that it's time for you to call an electrician to inspect your home and see what needs to be repaired or upgraded.
Besides having a 15 to 20-year old wiring, other tell-tale signs that it's time to call an electrician are:
When you're remodeling a room – Typically, remodeling would include installation of new outlets, switch or a new ceiling fan. While these may sound like easy tasks, electrical installation (especially outlets) is never a DIY project. Self-installed outlets could violate building codes and are a huge safety risk.  
When your lights are flickering – This is an indicator that you likely have significant wiring issues, which are potential fire hazards. Immediately call a licensed electrician near you if you experience this.
When there's rust or corrosion near your breaker box – Contact a professional electrician immediately when you notice signs of rust or corrosion around your breaker. This could mean that there is moisture build-up near your electrical panel, which could put your home in danger. 
When your breakers repeatedly trips – Although fuses will blow from time to time, a red flag would be if your outlet regularly trips.  This could mean that you have faulty wiring problems that need to be immediately addressed.
When you use too many extension cords – If you have few outlets and rely on extension cords to power your regularly-used appliances, it's time to call a licensed electrician to install new outlets for you. 
Yes, extension cords are convenient to use, but they are not designed to be used for the long-term (they could cause overheating and are a fire hazard).
If you experience these common electrical issues in your home, the best time to call for a qualified electrician now — before you run into a major electrical power emergency. 
Find local electricians near you from Same Day Pros' comprehensive list of contractors. Simply type in your Zip Code and find a pro in your neighborhood.
Top 5 Reasons to Hire an Electrician
Why You Should Only Hire a Licensed Electrician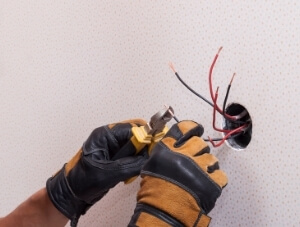 We know that many homeowners try to replace light switches, install ceiling fans, and take care of basic wiring jobs on their own. If you think about it, DIY is of course the much more cost-efficient approach compared to hiring a professional to get the job done. 
It may be self-fulfilling for some to solve electrical problems, but this could put you and the lives of your loved ones' in danger, especially if you don't have much experience with electrical work.
When it comes to electrical works, it's best to avoid doing it yourself and hire local electricians near you.
1. Avoid Electrocution
When you're working with electrical wiring or appliances, there is always a very good chance of you being electrocuted if you do not deal with it with the right expertise and with caution.  
If you are uncertain, do not hesitate to hire a professional electrician who has the necessary training and equipment for the job.
2. Prevent Property Damage
You might be thinking that you can save on costs when you try to repair malfunctioning electrical switches or outlets rather than hiring an expert. However, faulty wiring can cause fire and could result in huge property damage and more expensive repair bills.
A professional, on the other hand, is properly qualified to make sure the wiring is fixed without causing any further damage.
Did you know? The National Fire Protection Association estimated that from 2010 to 2014, an average of 45,200 home fires was either caused by electrical failure or malfunction.
These said home fires resulted in around 420 deaths, approximately 1,400 injuries, and $1.4 billion worth of property damage each year.
3. Ensure Proper Functioning of Electrical Systems
It is important that any electrical work, such as maintenance, repair or installation, to be done correctly the first time around.
For example, if the wiring in your residence is not installed properly, this could lead to your appliance being ruined, or worse causing a fire. 
With a professional electrician by your side, a properly functioning electrical system is guaranteed.
4. Do Troubleshooting Before they Become Bigger Issues
Some homeowners who have a slight knowledge of electrical work try to address the issues they detect with their electrical system. However, oftentimes, these issues could be just symptoms of a larger problem.
Only a licensed electrician can properly diagnose your system, troubleshoot these small issues and identify the right and long-term solution.
5. Selling Your Property Would be Easier
If you are planning to sell your property sometime in the future, it is highly recommended that you should only get your electrical works done by a licensed professional. 
That's because if you're selling your home, you must indicate in the real estate disclosure if there is a permit for the wiring. Without it, buyers might be discouraged to consider your property due to safety risks.  
What Should I Look for in a Professional Electrician?

If you are thinking of hiring an electrician, here are a few things that you need to consider:
Any professional electrician needs to undertake at least four years of training as an apprentice. They need to get the license required by the state and city that they want to work.
Many professional electricians also specialize in designing, installing, maintaining, and repairing electrical systems.
A professional electrician should be able to:
Assemble, install, test, and maintain electrical wiring, equipment, appliances, apparatus, and fixtures

Diagnose and troubleshoot malfunctioning systems

Do proper wiring

Inspect electrical systems and their components to identify and prevent hazards and defects

Test electrical systems and continuity of circuits in electrical wiring, equipment, and fixtures

Provide advice on whether continued operation of equipment could be hazardous or not
Questions You Should Ask Before Hiring an Electrician
You can ask the questions below while looking for qualified electricians so you will hire the right one for the job. 
Do they have valid licenses?
Make sure you check the license of the electrician if you are planning to hire one. 
Besides the electrician's license, check if the contractor is bonded and has a permit to operate their business in your area.
How many years of being a licensed electrician do they have?
As the saying goes, experience is always the best teacher. Working with someone who has years of experience is always the best choice.
What is their work specialty?
Like any other contractors, electricians have their speciality areas. Make sure to look for an expert in electrical work for residential homes as others may be more trained on doing commercial than residential work.
Also, a trustworthy electrician will be honest with you and will inform you if the job is too complex for their usual scope of work. 
What type of training do they have?
This is especially important if there is a specific expertise that is required for the job you want done. 
For example, projects like solar panel installation or smart home installation would need special training and experience of a licensed electrician.
Will the job require a permit?
Small electrical jobs, like replacing outlets or replacing old light fixtures with new ones do not usually require a permit or an inspection. However, larger jobs like wiring a house, installation of a generator do need permits and a visit from an inspector. 
Ask your electrical contractor if the project would require a permit. If it does, they would usually handle the permitting and inspection process for you. 
Who will be in charge of any repairs needed?
Since most of your home's electrical system run behind walls and ceilings, some electrical works may require your electrician to cut holes in the drywall. 
Make sure to ask your hired contractor whether these holes will be repaired or if you should hire another pro to fix them for you. 
Note that most electricians are not drywall experts, so you would probably need to hire another expert to repair your drywall. 
Is an electrical safety inspection included in the quotation?
Safety inspections are extremely important to make sure that everything is working safely and correctly. 
Most electricians would include an electrical safety inspection as part of the job. If you're not sure, don't be afraid to ask your contractor. 
Do they offer a warranty?
A reliable electrician will always offer a warranty. Find out if parts, labor, or both are included in their service and for how long.
Do they have insurance?
Liability insurance and worker's compensation are two important documents that you must check along with the license.
Are you ready to hire a licensed electrician? Find one near you just by typing in your Zip Code!
Before Hiring Local Electricians Nearby
What do you need to look for before hiring an electrical contractor?
Business Stability – Hire a contractor who has been in the same business for at least a year.
Check Online Reviews – Pick the right contractor by looking for online reviews.
References – Do not hesitate to ask for a list of references and contact those people to inquire about their experience with the company.
24-hour Emergency Service – While you may not require emergency services every time, it is good to ask the professional whether they provide emergency services or not. That will save you from panicking during an unexpected situation.
Over the Phone Pricing – This is not advisable as it can lead to wrong estimates, and either overpricing or underpricing. Make sure
Free Estimates – Ask for a thorough estimate before the work starts. Get it in writing. It is usually available as a free service by most electrical service companies.
Safety Record – Safety is a significant factor in a work as dangerous as this. Check the safety record of the professional who is going to work on your project. It is advisable to avoid professionals who have been in a lot of accidents at work.
Satisfaction Guarantee – Choose companies that provide a satisfaction guarantee.
Clean Up – Clutter and mess are possible during this kind of work. Professional electricians would usually clean up after their job is done.