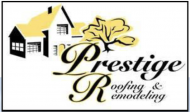 Profile
Prestige Roofing & Remodeling, LLC
A Tulsa Roofing & Home Remodeling Name You can Trust.
Looking for roofing contractors in Broken Arrow, Tulsa or anywhere in Northeast Oklahoma? Look no further!
Prestige Roofing & Remodeling, LLC, has been providing complete Roofing and Remodeling services throughout Oklahoma for over 20 years.
We are roofing contractors, located in Broken Arrow, locally owned and operated since our very beginning in 1996. We are master roofers – experts in providing residential and commercial roofing solutions, from asphalt shingles, metal roof, to the latest energy-efficient membranes & coatings for commercial roofs.
Whether your business or home is down the street from us or across the state, let Prestige Roofing and Remodeling be your go-to roofing and remodeling company. No job is too BIG or Small for us!
Work Hours
Service(s)
Review(s)
Photo(s)
Cities Serviced
Business Documents